Often when someone asks, "What's your ring size?" they're referring to your wedding ring size, but at Slate & Tell we recommend knowing all sizes, because we offer more than engagement and wedding rings. Slate & Tell offers a wide variety of rings for all special occasions and fashion wear. Continue reading to find out how we can help you get your accurate ring size from the comfort of your own home.
Why is it Important to Know your Ring Size?
It's important to know your ring size because it'll make shopping for rings easier for yourself or someone else. Knowing each finger size will save you time when shopping for rings other than engagement and wedding rings. If a loved one wants to spoil you with a stunning ring they'll need your correct size, but that's something you have to find out yourself by taking measurements of each finger.
Slate & Tell offers a few different ways to find your ring size and we will discuss those options below:
Printable Ring Sizer
Slate & Tell has created a free printable guide that lists two ways to find your size in a quick pinch. Under each product listing where you select a ring size, you can click find my ring size. When you download our PDF and print this size chart at home you'll find your correct size with 100% accuracy, giving you peace of mind at check out.
Ring Test:
Print ring sizer PDF That's linked on each product listing.
Match the inside of your personal ring to the circles on the page.
Select the ring size that best matches the circle on our printable guide.
Paper Test:
Print ring sizer PDF that's linked on each product listing.
Carefully cut out the ring sizer and create a slot to slide the other end through.
Slide the end through the slot and wrap the ring sizer around the desired finger.
Read the corresponding ring size.
It's that easy to find your ring size for free at home.
At-Home Ring Sizer
Slate & Tell has created an easy-to-use at-home ring sizer that's also the perfect size to store in your jewelry box; even stashing a ring sizer in your purse is a great idea. This way you have quick access if you're shopping online with Slate & Tell, so you know which size ring to buy.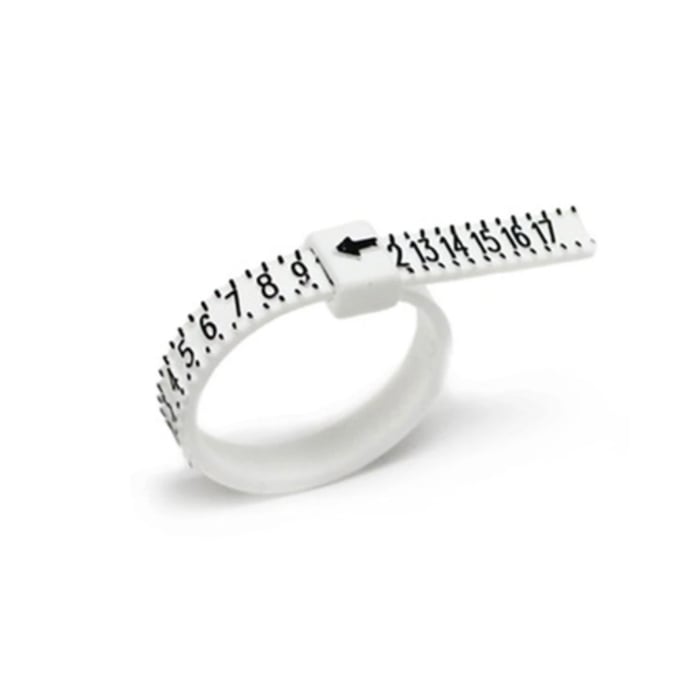 Our At-Home Ring Sizer is available for sale on our website. The purchase of our at-home ring sizer automatically qualifies you to save $15 on your next Slate & Tell order. You can use this $15 eGift Card to buy the ring you're admiring.
How to Know When You have the Correct Size?
After following the directions on either our printable finger size chart or our $15 Ring Sizer you'll have your correct size for any finger you wish to wear Slate & Tell rings. There are a few key things to look for when you're deciding on which ring size fits you best.
You'll know you're wearing the correct ring size if said ring glides on with little effort but feels some friction when removing the ring. It shouldn't feel too snug but should have just the right amount of room between the finger and ring of choice.
Having some wiggle room between your finger and ring allows for size fluctuation when wearing the ring in different environments, but also the way rings are handcrafted can cause you to need smaller or larger sizes.
Surrounding Environments Can Affect Finger Size
It's important to know that temperature is the main reason why your fingers fluctuate in size. If you're shopping for rings while your fingers are cold or hot they will expand and shrink causing sizing to be off at times. A cold hand will appear less swollen, while a warm hand may swell up. Taking your daily environment into consideration will help you determine the best ring size for you.
Different style Rings can Affect Ring Sizing
The way a ring is designed and handcrafted also plays a role in ring sizing. This is because a wide-band ring provides more finger coverage and requires room for your finger to breathe. Sizing up a quarter or half size will provide enough wiggle room that each wide-band ring requires.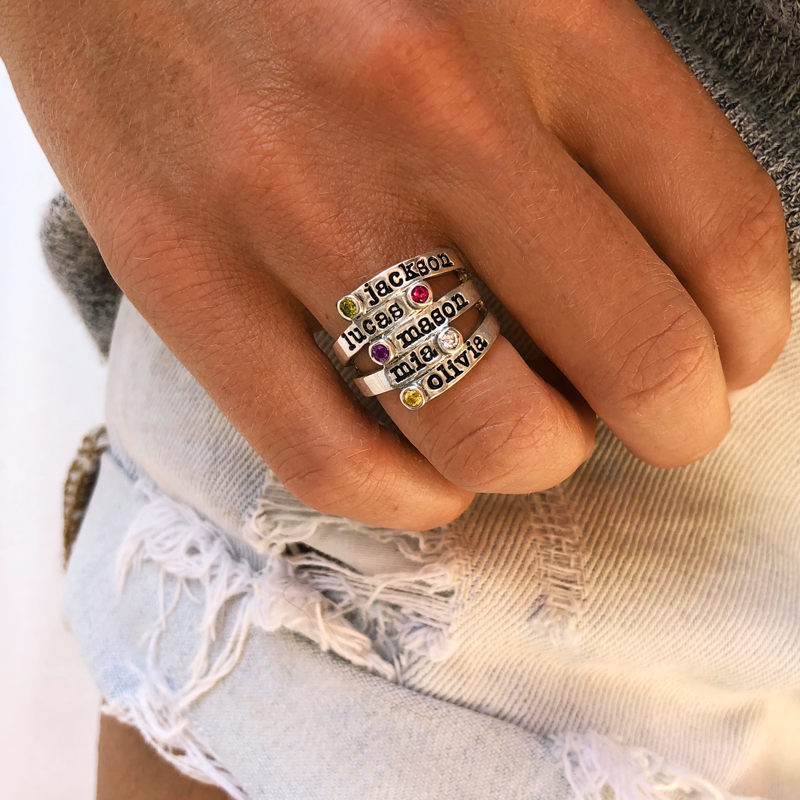 Our five birthstone mothers' ring is a perfect example of a wide-set ring with lots of finger coverage. This birthstone ring is a great gift for your mother or grandmother and holds sentimental value for all her children or grandchildren. We recommend using our printable guide so you can easily get your loved one's ring size to shower them with our beautiful jewelry designs.
Recently stacking rings has been a big trend in the accessory department and allows people to express their personality through different styles. Slate & Tell is known for our personalized ring stacks, however, there is one thing to know if you plan on making a ring stack. That's when you pair multiple rings together to create more surface coverage. Doing this requires more space between the ring and the finger it occupies, just like any wide-set ring would.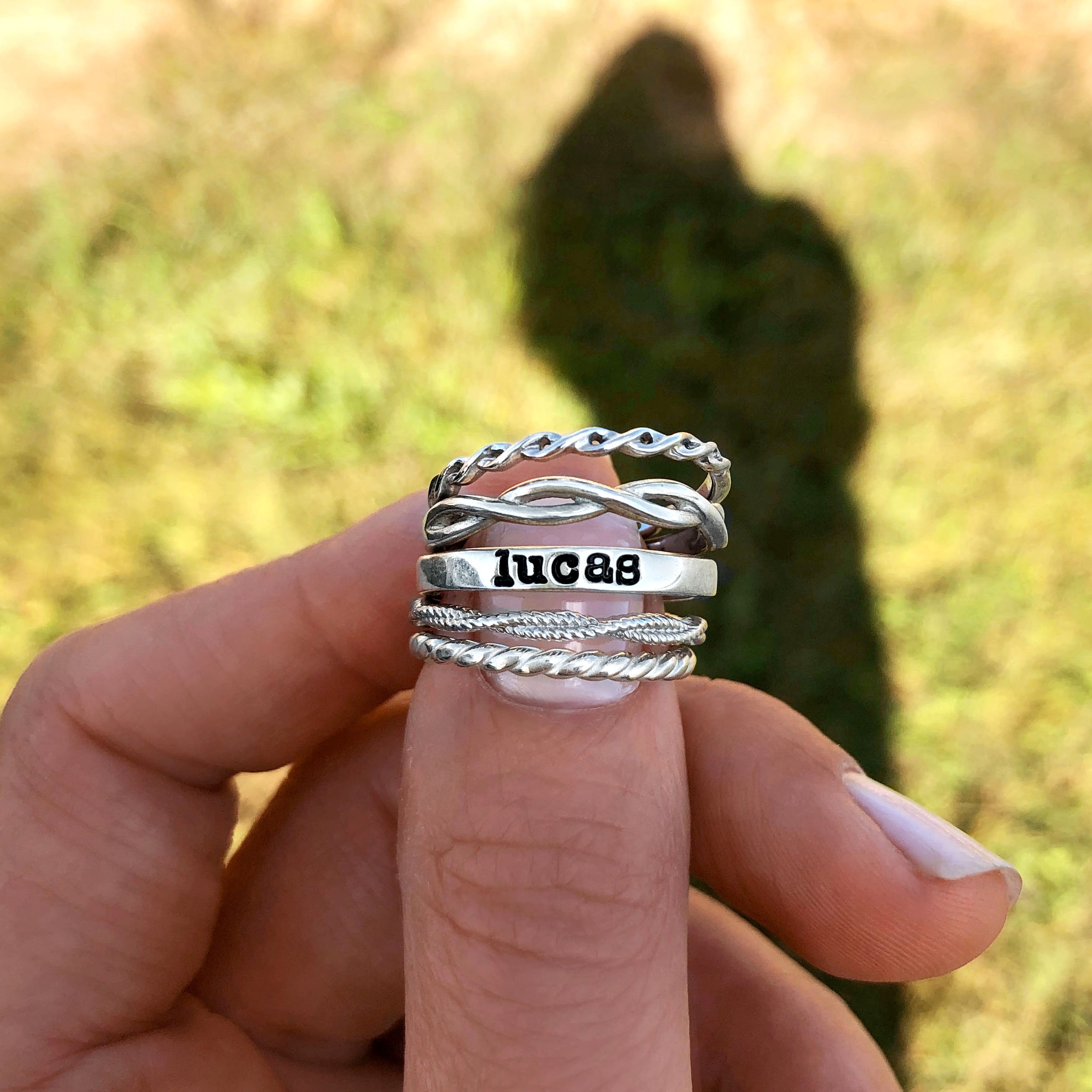 For an example of a larger ring stack that may require a quarter to half ring size larger check out our endless love personalized ring stack. This stack includes 5 stacking rings that each have a unique, but similar style to them. It's important to keep ring designs in mind while shopping to best gauge which ring size is your correct fit.
Giving our Customers Peace of Mind
All of Slate & Tell's jewelry, even personalized pieces like the rings listed above, come with a lifetime warranty that includes resizing. At Slate & Tell we only want you to have the best experience shopping for rings and knowing your correct size will give you the confidence to move forward with your purchase. We are proud to provide you with a few free options for finding your correct ring size.
Before you read our blog you were probably under the impression that ring sizing needs to be done by a professional, but at Slate & Tell we strive to make it easy to find your ring size when shopping online. If you have any questions regarding ring size or need to make an exchange for a different size, simply contact us and we will be happy to assist you.
At Slate & Tell, we love to share all of our jewelry on Facebook to give you a real-life view of our designs.