Everyone dreams about the day their soulmate pops the big question, "Will you marry me?". Some have every detail planned out for the occasion and others need more guidance. To ease your mind, we're here to tell you there's no right or wrong way to go about choosing your dream moissanite engagement ring. Continue reading to find out how you can choose yours today at Slate & Tell and let us guide you through this process.
Why Would Someone Choose a Moissanite for their Engagement Ring?
There's no doubt that moissanite is on the rise in the jewelry industry. This being said, moissanite is known for its outstanding fire and brilliance, but also its strong durability. The sparkle they carry compares to no other gem on the market, making it a great choice for engagement rings.
Moissanite at Slate & Tell is offered in all kinds of shapes and sizes. Our shapes range in a variety of options such as round, princess, cushion, emerald, radiant, pear, and marquise cuts. The center stone sizes range from 0.50 carats to 6 carats for our moissanite rings. We love that we're able to offer such a wide range of shapes and sizes to meet everyone's desires for their dream ring.
A great thing about our moissanite stones is that they are always lab-created making them an environmentally stable choice for your fine jewelry. This lab-grown stone will offer all the same beautiful qualities as a diamond, but for a lesser price tag making it a great option for people who are budgeting for their wedding day.
You should know that moissanite can be used in any piece of jewelry you're searching for, making it a great option for your wedding bands or anniversary rings. Here at Slate & Tell we carry a beautiful collection of moissanite and diamond rings for all occasions.
Selecting Your Certified Moissanite Rings
This is the fun part where you get to incorporate your style into your ring. Many people know what they're looking for in an engagement ring, whether that be vintage-inspired or a more classic style, we've got you covered. At Slate & Tell, we have a wide selection of styles for you to choose from.
As we saw an increase in classic designs, we couldn't help but notice a growing demand for vintage styles. So, our team went to work and put so much love and thought into each vintage ring design.
Slate & Tell's vintage collection has intricate detailing with beautiful flora and sunburst halos that give you the 1920s-era look with a modern twist. The halos designed for our vintage moissanite rings provide great finger coverage, allowing you to save money without splurging on larger stones.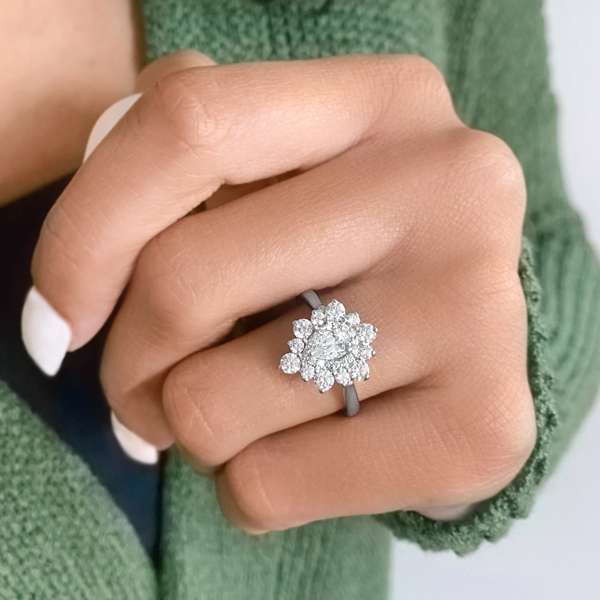 This certified moissanite ring provides excellent finger coverage without being too much. A stunning .5 carat pear moissanite surrounded with a diamond sunburst halo provides the right amount of vintage flair for your artistic personality.
We have made it easy for you to find the perfect vintage wedding ring to fit your vintage engagement ring. Our Slate & Tell team has personally selected which moissanite wedding band will fit each engagement ring and have options easily accessible on the same page as your dream ring.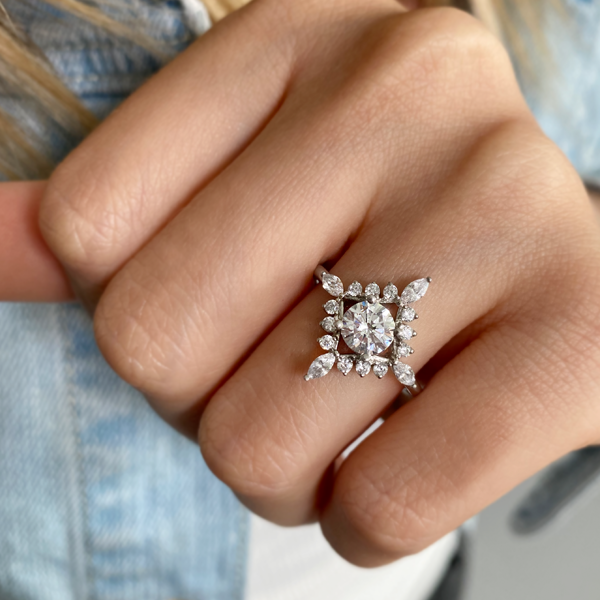 This moissanite diamond ring displays how much finger coverage you get with our vintage collection. Having the flora vintage halo stretch out in each direction allows for the most finger coverage and a beautiful antique finish.
Our Solitaire collection is perfect for the minimalistic bride-to-be. Handcrafted with beautiful silver and gold metal to truly let your moissanite shine bright.
Solitaire rings are known for their simplicity and elegance. This design is made to have a dainty band that gracefully secures your center stone allowing it to be the center of the show. Our solitaire rings are made to display all moissanite and diamond cut stones and pair perfectly with our moissanite wedding rings.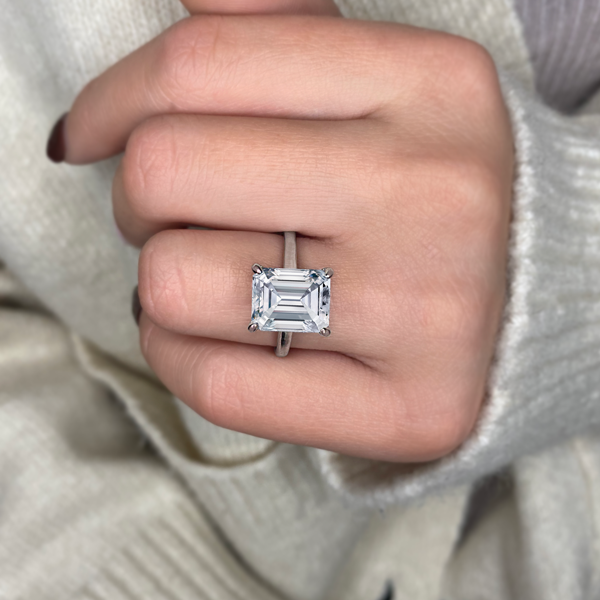 Our 5 Ct Emerald Moissanite Engagement Ring is a showstopper like no other. Emeralds are known for their unique step-cut sparkle that gives a glass-like appearance.
Slate & Tell's solitaire collection has taken a modern approach to the design. In recent years it is widely accepted to be more creative with the classic solitaire. Typically, a solitaire ring has a single band with 6 prongs securing a round cut stone. This style is known as the "Tiffany setting" but now we have handcrafted the most beautiful solitaire designs that feature different prong styles and split shank bands.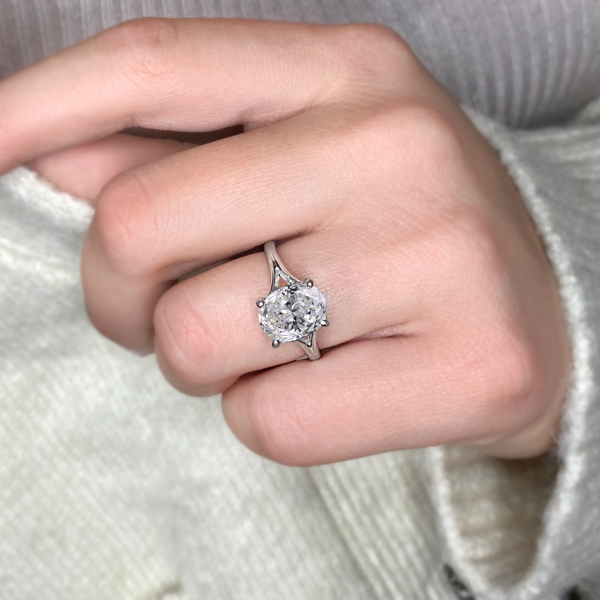 This 5 Ct Oval Moissanite Split Shank Solitaire Ring is most popular for its elegant shape. Ovals are known for making the finger appear longer and more slender when worn. Pairing oval moissanite with a split shank setting makes for a simply timeless combination.
Four prongs and split shanks are the new modern style for solitaire rings. Using four prongs to display a minimalist design gives you the most out of your center stone's sparkle. A split shank has a timeless appearance as its band splits through the center in the most delicate way, seamlessly creating the prongs that will secure your center stone.
What's it Like Shopping for Moissanite Rings at Slate & Tell?
Shopping for your moissanite jewelry at Slate & Tell is a stress-free experience and allows you to browse exactly what you came looking for. We have made it easy to navigate each collection making it possible to explore all of your options. By clicking the chat button on our website you're able to ask any questions you have while shopping.
At Slate & Tell, we love to share all of our jewelry on Instagram to give you a real-life view of our designs. This allows us to share different ways to style our jewelry, giving you a better idea as to what engagement rings and wedding bands will look great together.
With the support and knowledge from our team at Slate & Tell you have the key to finding your dream moissanite engagement ring and the opportunity to have a stress-free shopping experience from the comfort of your own home.